Blönduós pilot: "Heldurðu þræði" – Program for Textile Entrepreneurs  
Key concepts: Vocational training, innovation spaces, circular economy 
CENTRINNO Blönduós pilot creating learning opportunities for textile makers and entrepreneurs in Iceland. 
Unlike other CENTRINNO pilots cities which are all located in large cities, Blönduós is situated in a rural sheep-farming region of northwest Iceland with barely 1000 inhabitants. Only about 390 000 people live in the whole country. These facts influence how the pilot approaches the objectives it aims to meet. Instead of only focusing on the local community, the team also stresses the need to work on a national and international level. Main aims of the project include developing textile focused workshops and vocational training, both online and onsite, increasing knowledge and raising awareness on topics such as textile waste, circular economy, sustainability and the potential of textile innovation, e-textiles, and bio-textiles.  
While the University of Iceland focuses on education on the national level, the Icelandic Textile Center contributes to the development by offering workshops and vocational training for makers, artists in residence, educators and interested members of the local community on site. The Textile Center has already hosted a wide variety of online and onsite workshops from bacteria dye to digital weaving, as well as exhibitions, open houses and Q&A sessions at the TextileLab, first opened in May 2021. In addition, the Textile Center has collaborated with educational institutions and Icelandic universities such as the Icelandic University of the Arts and Reykjavík School of Visual Arts, who regularly visit with their students, and Reykjavík University, where students in engineering will develop machine prototypes for textile recycling and using plant fibres as part of their curriculum. In September 2022, the Textile Center started teaching Fabricademy – Textile Academy  in Blönduós, a 6-month intensive program at the intersection of digital fabrication, textiles, and biology. 
This blog post focuses on "Heldurðu þræði?", a hybrid program for textile entrepreneurs developed and hosted by the University of Iceland in collaboration with the Icelandic Textile Center twice during the winter of 2022/2023.  
Development and main aim of "Heldurðu þræði?" 
"Heldurðu þræði?" (Icelandic equivalent of "Don't lose the thread") is a 9-week program developed by the pilot team from the University of Iceland in collaboration with the Textile Center. The course is intended for entrepreneurs and innovators in the textile field, including people who want to implement an idea and start their own business or want to increase their operational knowledge. Prior to teaching the course, a need analysis was conducted by the team to determine the target group, format (online / hybrid) and main focus of the program. Based on the outcome, courses and workshops were developed with the needs of the target group in mind. Although textile is traditionally a women's field, gender stereotypes were challenged by inviting people of all genders to participate. The course was online and free of charge to encourage people from all social classes and from all over Iceland to participate. The program was advertised via the University of Iceland and Textile Center websites and social media; potential participants were invited to join an online introductory meeting on September 12, 2022. 
Starting the program  
The first "Heldurðu þræði" course was held September 20 – November 19, 2022, with the participation of 29 individuals from various backgrounds within textiles. Participants attended lectures and training sessions, received hands-on support and access to relevant materials. Tasks included creating a coherent business plan, learning about strategic planning, management and personnel issues, marketing, branding and the use of social media to promote products. The course also offered education on topics such as circular economy, gender equality, rural development, and environmental issues. 
The program was taught online every Tuesday for nine weeks and ended with a site visit at the TextileLab in Blönduós. All lectures were recorded to ensure that the participants unable to attend could listen to them at their convenience. 
On-site visits 
On November 19, 2022, participants were invited to participate in an open house and workshop at the TextileLab in Blönduós, try the equipment available and connect with the Textile Center staff and members of the community.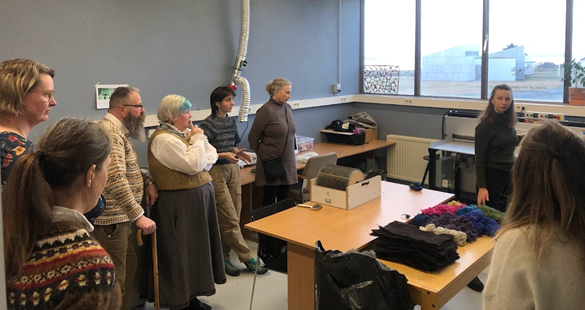 Program participants visiting the TextileLab. Image: Laufey Axelsdóttir. 
During the event, videos were shown of participant's projects and three top ideas / projects selected, namely Elín Jóna Traustadóttir's "VæruKær kúrukoddi" (a pillow filled with Icelandic wool), Kristín S. Gunnarsdóttir's "Mjúkull – yfirdýna fyrir náttúrubörn" (a mattress topper made from wool) and Linda Friðriksdóttir's project on how to use wool for house insulation.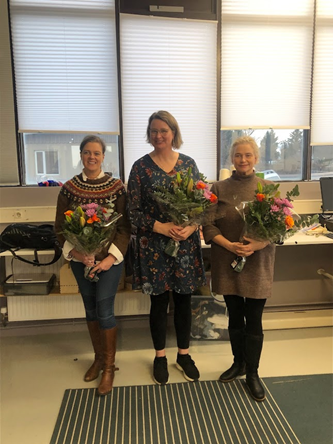 Closing ceremony in November 2022. Image: Laufey Axelsdóttir 
The second course was held February 12 – May 13, 2023, with 48 participants. Again, on May 13, participants were invited to visit the TextileLab to experiment and connect with the Textile Center staff.  
The three top ideas / projects in the second instalment were Ragnhildur Hemmert Sigurðardóttir's "Heyband", a project which focuses on finding ways to process products and technical solutions for the textile industry made from agricultural waste, Kristveig Hallórsdóttir's "Pappírsmyllan", a project that aims to make paper from plants that grow in Iceland, and Freyja Sjöfn Hrafnsdóttir's "Klæðaverslun Freyju Sjafnar". Her project entails opening a small store specialising in organic, recycled and environmentally friendly materials in Reykjavík.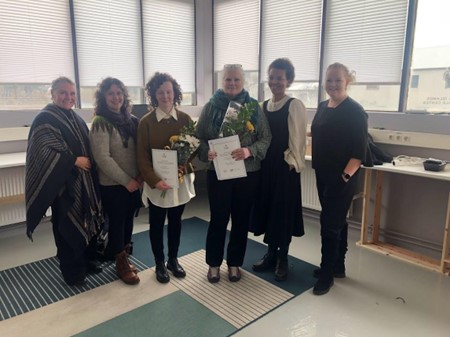 Closing ceremony in May 2023. Image: Laufey Axelsdóttir 
Outcome  
The "Heldurðu þræði" program has given participants new insights, connections, and skills to develop their ideas and businesses. It also provided the Blönduós pilot team with important insights in regard to the needs of textile entrepreneurs in Iceland and how best to meet them. Since the program ended, many participants have continued working on their individual projects or even started a business. Elín Jóna Traustadóttir, for example, who developed the pillow filled with Icelandic wool, has since founded the company "Fjallaspuni." The course has prepared her to apply for grants and navigate the startup environment.  
Kristín S. Gunnarsdóttir, who has developed the mattress topper made from "snoð", a type of wool sheared in early spring and once considered useless, is now working on marketing her products under the name "Mjúkull" ("Soft wool").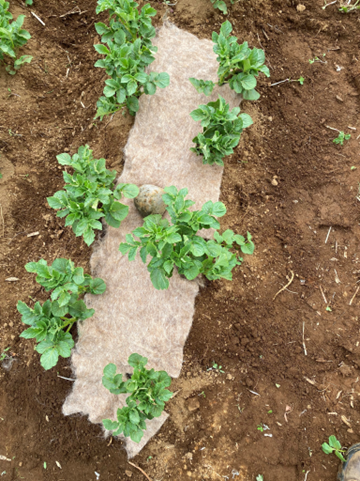 "Mjúkull" product: "Snoðbreiða" / felted wool used in gardening to protect against insects, weeds, and drought. Image: Kristín S. Gunnarsdóttir. 
Linda Friðriksdóttir, who works with wool used for house insulation, emphasised how helpful the course was for her. She learned a lot about Icelandic wool, the importance of innovation and how it can create value. She has since connected with a family business in Austria that produces insulation materials from sheep's wool and started her business "Skafl ehf". 
It is important to enable textile innovators in Iceland to create products in line with the principles of a circular economy. Forming connections and building collaboration with makers and textile networks in Iceland, further developing the TextileLab as a space for experimentation, raising awareness, communicating knowledge and teaching skills via vocational training and innovation courses like "Heldurðu þræði" are instrumental in this respect.