Community resilience boosted through developing local heritage skillset in Tallinn
As the first 2 years anniversary of CENTRINNO arrived, so did the time for first conclusions. This blog post aims to do just that – give an overview of the past two years' activities in the Tallinn pilot site. 
Tallinn pilot site of CENTRINNO is located in historical area of Tallinn, Kopli, part of North Tallinn City District. Located in the old cultural centre, Kopli 93 building, the pilot aims to transfer local heritage to community skills which could be turned into entrepreneurial actions and co-operational self-organizing. At the heart of Kopli 93 are heritage, hand skills and local production, learning, cooperation with vocational school and museums, traditions and community self-organizing. This is supported by thorough cooperation with the municipality, the North-Tallinn Administration.  
The direct focus points of the community hub are the community garden, apiary and the newly opened makerspace. The three mentioned starting points are fostering skill and resilience building linked to solving global challenges on a local level. For us, the terms grandma and grandpa skills hold an important role in guiding our actions – we believe that teaching and learning these so-called old-time skills are exactly what allows skill heritage flow all the way from past times to the year 2022. 
Tallinn pilot site has been active since April 2021, the first public events taking place in June the same year. Now, looking back, we have identified 3 key aspects or perhaps even results on which the work continues: 
     

Self-organization
At the core of the Kopli 93 is the community and the vision of seamless self-organization. We aspire to make our community hub work in a way which is based on the joint values and exchanging non-monetizable resources such as time and skills. One of the key activities for a strong start of self-organization, is the tradition of regular meetings. Wednesdays at Kopli could be fixed to our community's calendar, our community shows up no matter the weather conditions for example. Besides Wednesdays, the community meets up when needed – when some problem needs to be discussed etc. Our community could be considered to be a hybrid community, because we actively communicate in our Facebook group, too.  
Another joint activity which has made seamless self-organization possible is mapping and co-designing joint values. Lõmas Kama, now student of Aalto University in Finland, designed a co-design tool and workshop for our community in which we took our values into smaller pieces to put it together again as a joint vision for how our community should function. One of the values we discovered, for example, was embeddedness – staying in a place for long enough to experience it grow or develop. Other great examples are "Kopli 93 is a community, not a service" and "leave Kopli 93 in a better shape than you found it." 
One of the great examples of self-organization in our Kopli hub is the fact that our newly opened makerspace was furnished and finalized by community members and even their friends, family and children. For the furnishing, mainly reused materials and furniture was used and it took two months' worth of work parties and workshops for the community to renovate and build the space. Everything took place for no other reward besides time spent greatly with other members of community and learning new skills.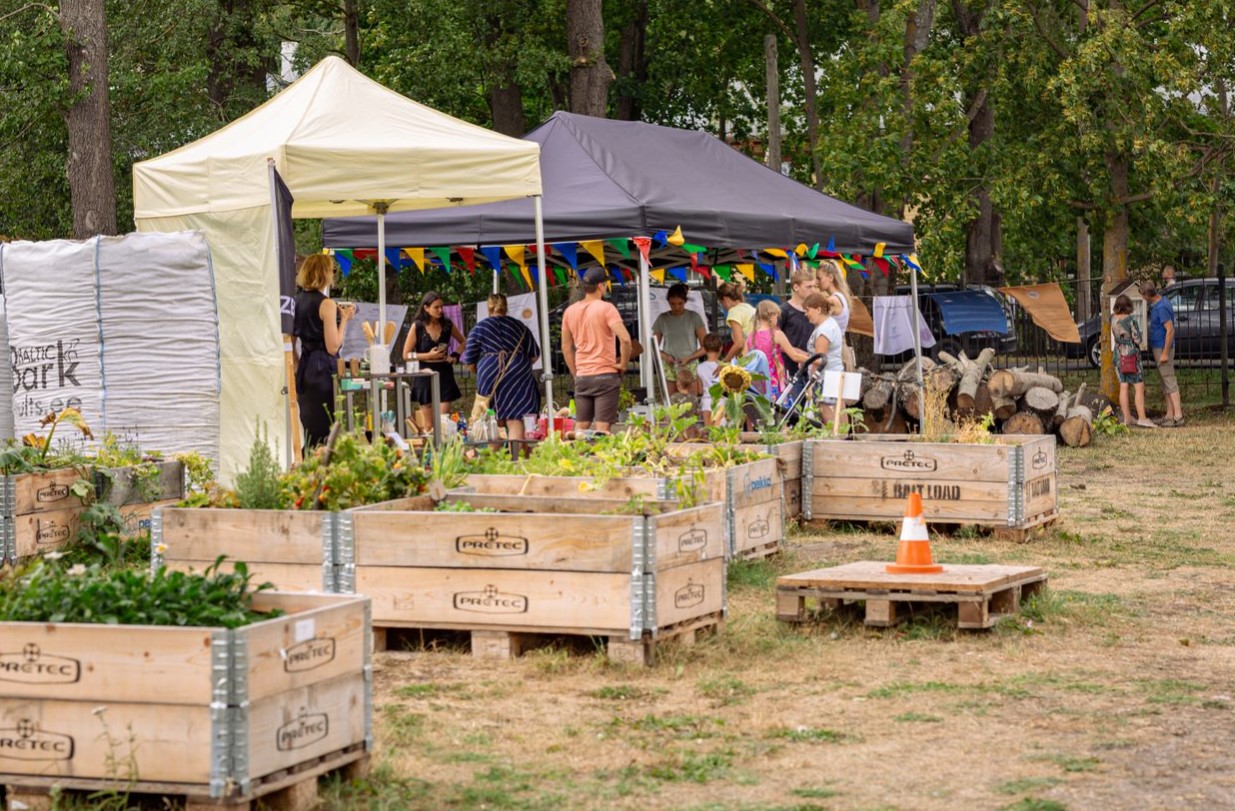 Cooperation
Cooperation is at the heart of everything we do in Kopli. Our previously mentioned apiary, for example, is in our hub thanks to a cooperation agreement between North Tallinn Administration and Tallinn Kopli Vocational School. The makerspace was financed thanks to a side project by North Tallinn Administration and Estonian Environmental Investment Centre. The heritage exhibitions, "Taste of Kopli" by Kalamaja museum and "Mending culture" by Estonian National Museum, were also cooperation projects. The latter was originally put up in our makerspace, but has already travelled to two Estonian cities – Viljandi (for mending festival) and Tartu.  
Thanks to cooperation, the key event of this year, Kopli Makers Festival also took place on Sunday, 21st of August this year. The festival was possible thanks to an active entrepreneurial partner, Põhjala factory, which is an innovative hub gathering makers from all kinds of fields of life. Partnering up meant that the festival was held in two major grounds this year – yard of Kopli 93, but also the huge area of Põhjala factory. The makers presenting their field of work in various workshops, came even from Tartu in southern Estonia. The event was a success and got media attention, too. 
     

Heritage
Heritage in Kopli 93 community hub is closely linked to learning. In learning, grandma and grandpa skills are at the centre stage and the main inspiration, and all our activities and innovation follow up. Whether it is community gardening, beekeeping or activities in the makerspace, we are bringing back knowledge from previous times which were used in our pilot area some 100 or more years ago. Because of the heritage, Kopli has strong foundation for local production and self-sufficiency. This kind of heritage motivates people yet and again to learn and develop practical skills and know-how. But we cannot only rely on traditional skills. Contemporary societal challenges introduce the need for innovation and merging the traditional with new discoveries. Great examples are permaculture, commons-based peer production, and design thinking. All of which were not reachable 100 years ago. Traditional wisdom will reach much further when merged with new ways of thinking, operating and designing.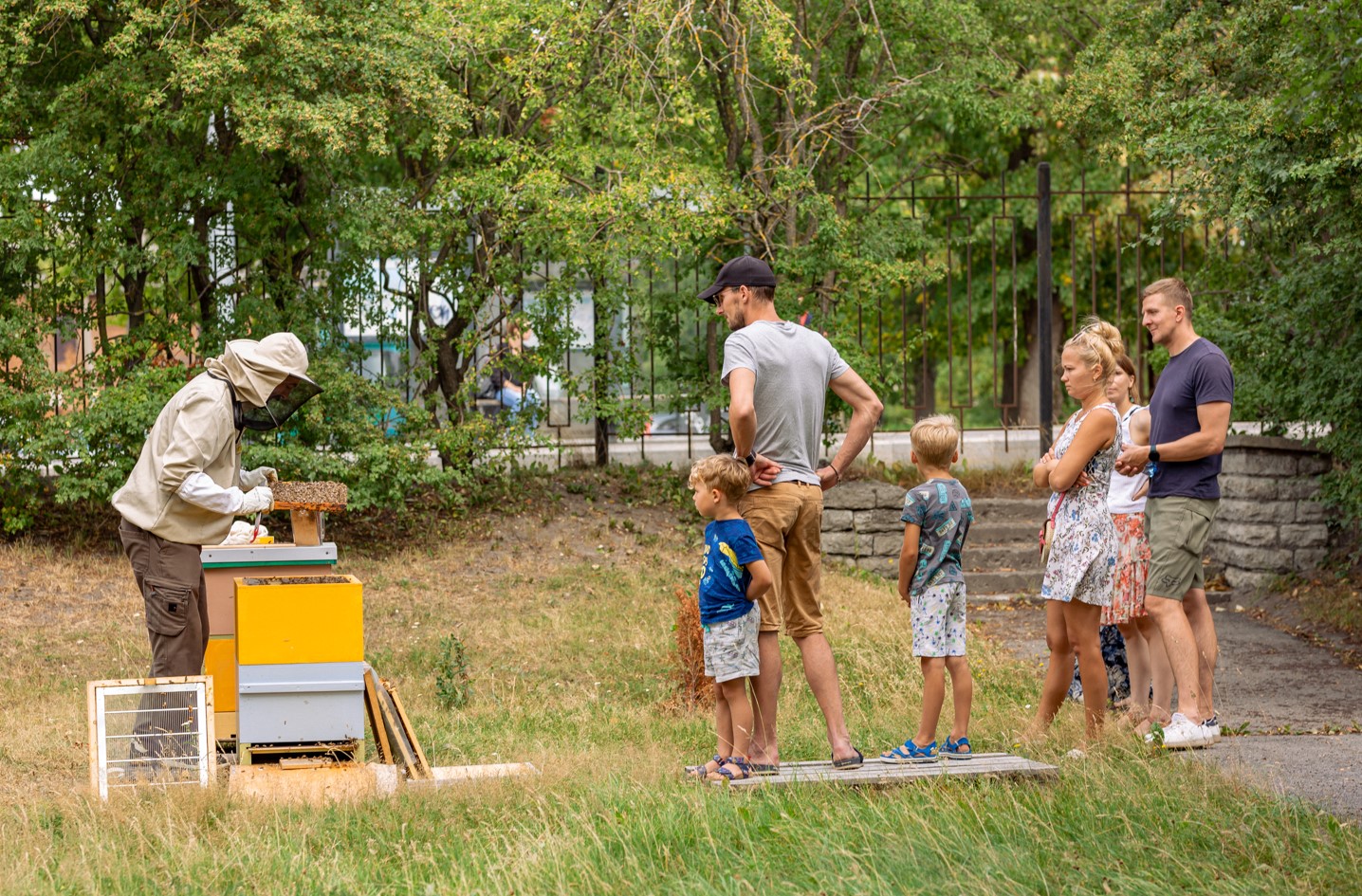 Heritage for us means also fostering the working together method, working together as a community for a common goal. We call this process working collectives, working bees and work parties. This was one of the foundations of society once and one which kept our communities resilient and flexible. We firmly believe that we also need it in today's unpredictable and unstable world, also and mostly at the local level. Our events and activities programme follow this belief. 
What's next in for Kopli? 
As we prepare to close the second season at our community hub, a celebration is ahead. The building we are located in is turning 85. To celebrate this, we are organizing a story gathering campaign in which we ask the local residents of Kopli to send in stories linked to Kopli 93 building. Since the site's history is rich, we expect to have interesting stories which also contribute to better understanding of the heritage aspect of our hub. The campaign is held in cooperation with the municipality, North Tallinn City District. 
Due to our location in the northern hemisphere, our gardening season is rather limited and for this reason, the makerspace is the place for main events of autumn-winter seasons. Many activities, such as practical workshops are planned to take place under the EIC project in the upcoming months leading to 2023. As for the further plans – stay tuned and follow us on Facebook and Instagram!