Blönduós Pilot: Circularity through Textile Innovation 
CENTRINNO Blönduós pilot creating opportunity in rural Iceland and beyond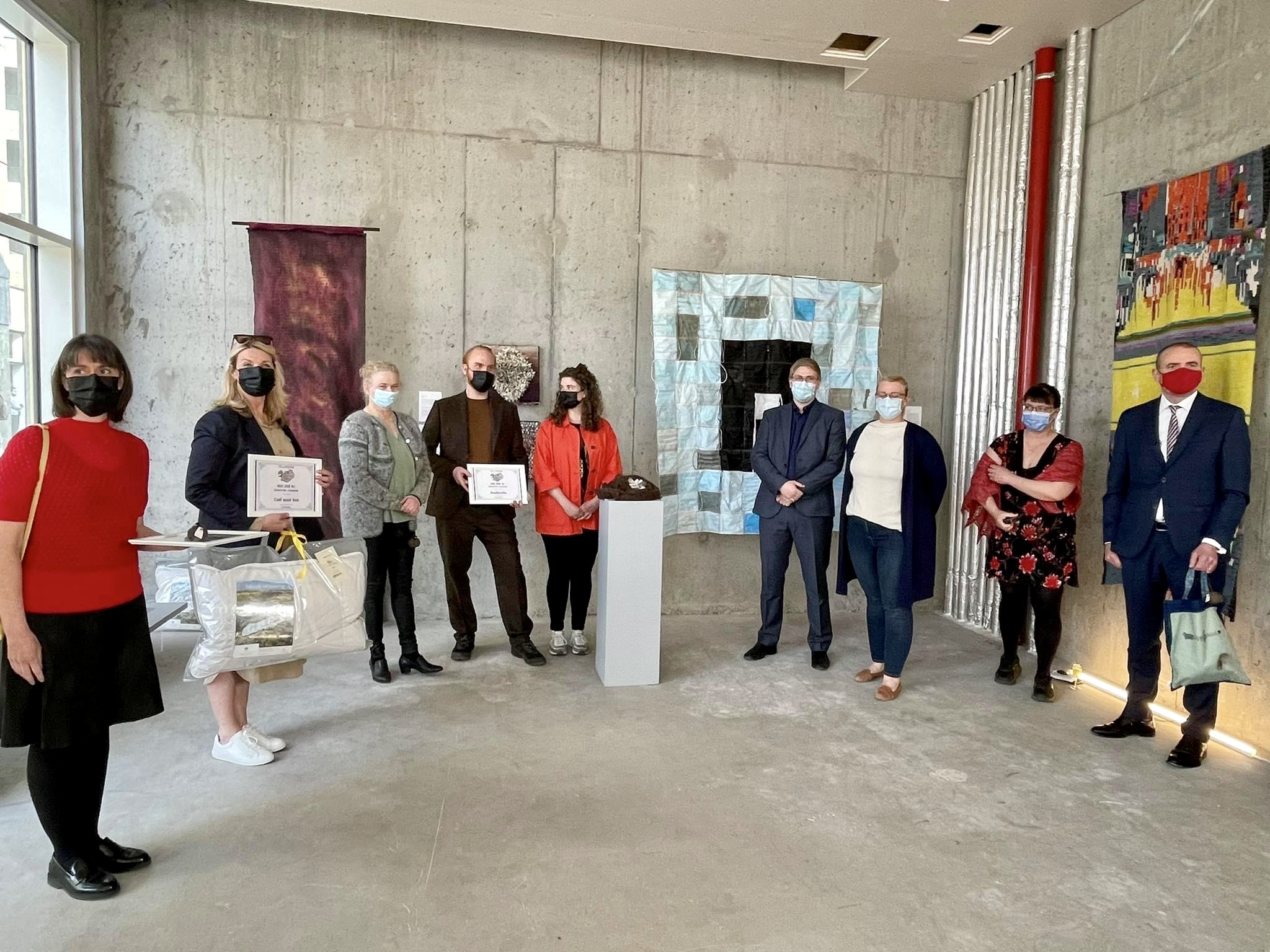 Unlike other pilots within CENTRINNO, the Icelandic pilot is not situated in an urban environment but the sheep-farming region of northwest Iceland. One of the main aims is to strengthen and further develop the Icelandic Textile Center in Blönduós, located in the heritage building and former women's school Kvennaskólinn, as an innovation hub and makerspace for the fibre community with a focus on the use of local and sustainable resources, circularity and wool waste recycling innovation. The University of Iceland (HÍ) contributes to the theoretical foundation of the hub by conducting research on the current situation and historical heritage of domestic crafts and textile work in Iceland.  
CENTRINNO was kick-started in October 2020. This blog post focuses on events held during the first two years on the local level and our main achievements and objectives, starting with the wool innovation idea marathon "Ullarþon" held in spring 2021.  
Wool Marathon 
Ullarþon was an Icelandic wool-themed idea marathon ("ull" is the Icelandic word for wool) hosted by the Icelandic Textile Center in March and April 2021. The project was intended to support sustainable wool innovation and product development in Iceland and help increase the value of Icelandic wool. Over 100 participants submitted ideas as video shorts (see winning projects here) in four different categories: utilizing unprocessed wool; wool mixes and blends; product innovation and digital solutions and traceability. The award ceremony took place on May 20 during the Textile Center's event "Textile, Tryouts and Technology" at the annual Icelandic design festival DesignMarch in Reykjavík. Guðni Th. Jóhannesson, the president of Iceland, presented the awards to the top team in each category.  
TextileLab  
One of the main aims of the Blönduós pilot was to create a space where textile designers, artists, makers and scholars have access to modern facilities, expertise and equipment suited to their needs. On May 21, 2021, Þórdís Kolbrún R. Gylfadóttir, the Icelandic Minister of Tourism, Industry and Innovation, and Lilja Dögg Alfreðsdóttir, the Minister of Education, Science and Culture, formally opened the Textile Center's TextileLab at Þverbraut 1 in Blönduós. The first of its kind in Iceland, the TextileLab offers access to state-of-the-art textile equipment and digital technology for makers, students and artists (or anyone interested in fibre experimentation, for that matter) including two Tc2 digital looms, a felt loom, laser cutter, vinyl printer, and digital embroidery machine. The TextileLab is open by appointment and does an Open Day once a week, with a staff member trained in textiles and product development providing assistance and giving advice if needed.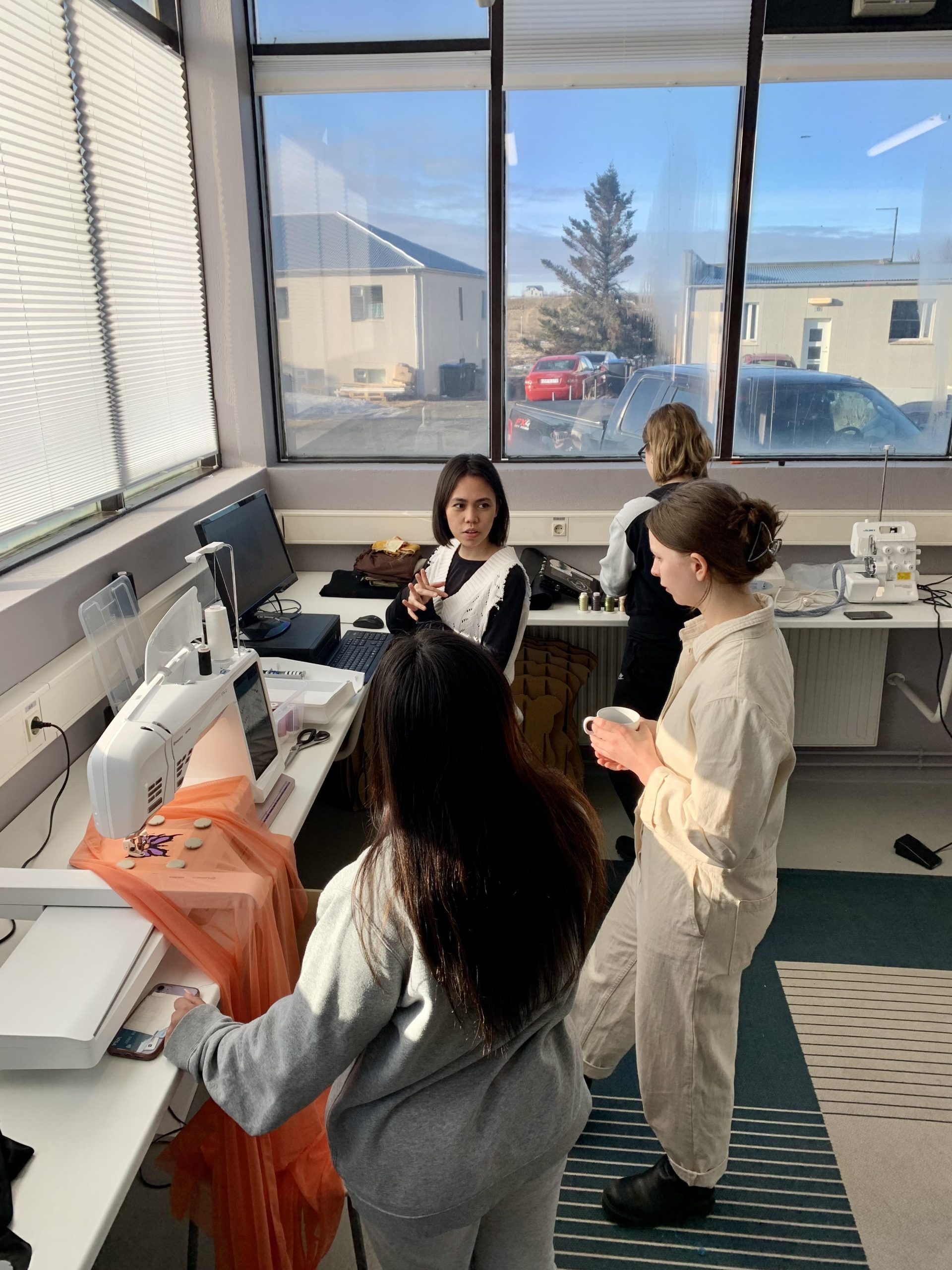 Since the formal opening, we have welcomed many visitors, including the local community, members of parliament, educators from universities and comprehensive colleges, and student groups. In August 2021, Icelandic designers Berglind Hlynsdóttir and Sólveig Hansdóttir took up residence at the Textile Center to work on their textile-waste focused research project "Þráðhyggja" ("Thread Obsession"), using both the traditional looms and knitting machines at the Textile Center and the digital equipment at the TextileLab (see their video here.) We invited teachers from local elementary schools to learn how to use the equipment and held an open house weekend, art exhibition and smart textiles workshop with Milan-based digital strategist and lecturer Zoe Romano.  
During fall/winter 2021/2022, we welcomed students from the Reykjavík School of Visual Arts, representatives from the Tourism Department of Hólar University, teachers from VMA College in Akureyri, and fashion and product design students from the Iceland University of the Arts for on-site training and lectures on topics such as traditional and digital weaving and Icelandic textile traditions. In spring 2022, we hosted a series of workshops from Soft Robotics and Biomaterials to Bacteria Dye in collaboration with Shemakes, an EU-funded project focused on innovation as key to bridging the gender gap in the textile and clothing industry.  
What is next?  
We're now half-way through CENTRINNO and have already achieved important milestones on our journey. There have been challenges along the way, including getting policymakers on board and communicating precisely what it is that we do. Narrow perceptions of textiles and the fact that we are located in rural Iceland, not Reykjavík, means that we have to amplify and distill our messaging all the more to be heard and earn trust and credibility in a country where more than two-thirds of the population live in the capital city area. And, likewise, when the common perception is that a successful endeavour really ought to graduate to a location in Reykjavík, we find ourselves demonstrating time and time again that there are tangible benefits and unique opportunities for innovation hubs like the Textile Center that exist outside urban settings but work on projects relevant on a national and international level.  
We also want to be as accessible as possible for the local community, and are looking for more ways to engage the minds and talents of those around us, including makers, sheep-farmers and students who live in the region.  
Next up is hosting "Heldurðu Þræði", a study program for textile entrepreneurs and makers in Iceland developed by our project partners from the University of Iceland, and continuing the research on textile history and gender conducted by the HÍ research team. This includes mapping women entrepreneurs in textiles, collecting information on the environmental impact of textiles in Iceland and looking at textile value chains from a gendered perspective. 
We are working on facilitating the formation of a Textile Cluster in Iceland for more effective collaboration and knowledge exchange – a first meeting and conference was held in January 2022 – and just welcomed the very first group of Fabricademy students in Blönduós. The multidisciplinary intensive course focusing on new technologies applied to the textile field is taught in our TextileLab from September 2022 onwards.  
A very important part of CENTRINNO is, of course, the collaboration between the participating European partners and pilot cities. On the agenda are bi-weekly calls, training sessions and the Consortium Meetings in changing locations that have brought all of us together online and on site since the project first started. It's incredibly inspiring to be working together towards common goals: putting citizens at the core of sustainable reformation, building creative and productive hubs on the principles of a circular economy and learning about local initiatives around Europe. In October, the Blönduós pilot will be one of three partners hosting the fall 2022 Consortium Meeting.