Food Transformation
Food production is not the full picture; fresh vegetables are only a part of local food supply. While Paris has done well to map organic markets, urban agriculture initiatives, sustainable food processors and small-scale producers selling lightly processed foods are often overlooked. Within CENTRINNO, the pilot team has set out to map these food processors to highlight their special skills in the food transformation chain. In the following slides you will find food transformation opportunities in Paris along with some of the relevant actors.
To be able to transform waste into food or food waste into totally new products, some special skills are needed.
First of all food design is now a subject increasingly taught in design schools or in dedicated institutes.

Secondly, advanced chemistry knowledge is necessary to be able to make new edible combinations.

It is also important to have a good knowledge of the applicable sanitary standards to put these recycled foods back on the market.

Moreover you need to have strong communication skills that we often forget to mention, to convince people to eat some recycled products and to bring them to overcome their cultural preconceptions.
Finally, even if it's not literally a skill, knowing where to get unmixed food waste is essential for recycling it.
Furthermore, food transformation includes turning food waste into non-food products and vice versa, which is referred to as food design. In recent years, large-scale facilities have been established around the world to convert food waste into useful products. There is also an element of creativity that comes into play, as demonstrated on the Foodture Platform. The platform emerged from Foodture Barcelona, the Summit of Innovation in Food Design, Food Tech, Social Food & Sustainability born in Barcelona city. It is a digital space open to all those artists, designers, startups, inventors, companies or brands that want to show their disruptive projects related to emerging disciplines of the food sector and want to be part of the FOODISM edible cultural movement.
Food Distribution
Food physically travels through the food system before it is transformed or ends up on someone's plate. Food distribution is another element of the food system that should be included in the circular transition due to the high emissions from transporting food products over long distances. According to the circular principles, alternative food system distribution should be low in carbon and accessible to a lot of people. Paris has already mapped outlets to where alternative, small scale and organic foods are sold. But it does (1) not show where locally produced/ transformed foods are sold and (2) does not include the actual distribution logistics of food. By clearly documenting food distribution, more circular opportunities become evident as presented in the slides on the cartography site, check out the three presentations with maps here.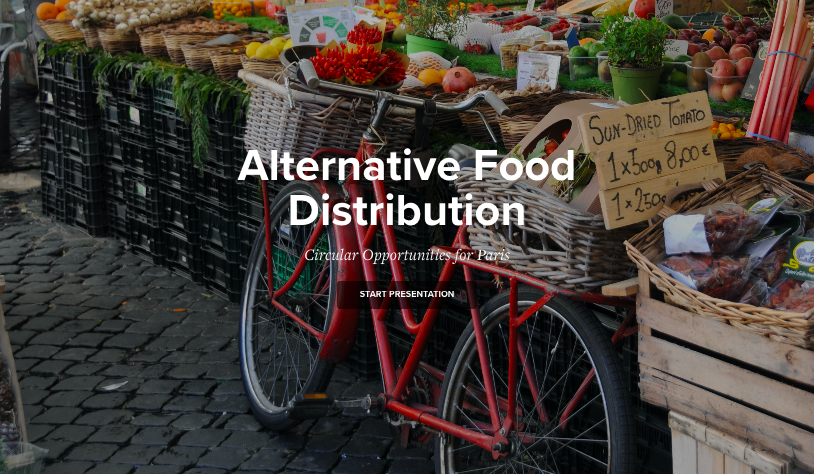 Food Waste Management
Food waste emerges along every step of the supply chain, from production, to transformation and distribution. To shed light on the sheer scale of Paris' food waste generation (and potential opportunities), we have mapped the city's urban metabolism. The material flow analysis of Paris reveals that the majority of organic waste is not further utilized, as can be seen in the diagram.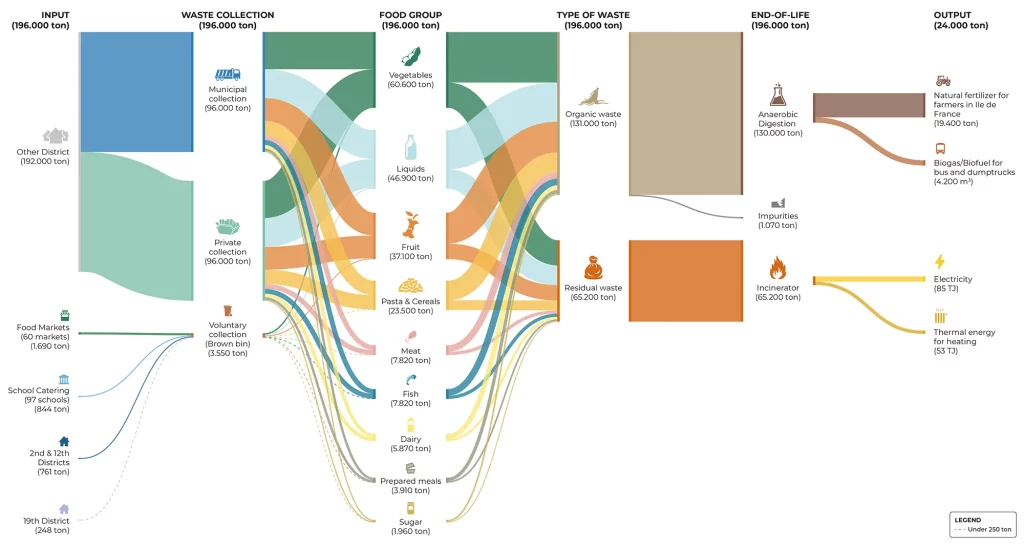 Re-integrating Paris' food waste into a circular flow is reminiscent of Paris's history and several circular opportunities become evident. In the slideshow below, these opportunities are presented in relation to production, transformation and distribution.
Next Steps
Mapping the circular potential and sustainability of the Parisian food system revealed to us that it is illusory to think in the short term and hope to change the situation. We need to adopt a long term view and to generate roots amongst the habitants and people who dedicated themselves in the field of food production or transformation in the city. As part of this process, on the 5th of July 2022, the event "eat the city" organized by Make.works took place at the Fabcity Hub Paris with around 50 attendees. We gathered eight initiatives who were part of the first batch of the Make.works paris space. All were involved in the North-east of Paris alternative food system. After explaining the Make.works initiatives and introducing all of the attending food systems actors, it became more evident to the attending organizations how they might collaborate. At the end we noticed a collective will to develop circular models between alternative food system actors at a micro-local scale first as a way to make savings and to strengthen the bounds between them.
The research and data presented in this project are guidance tools for Fab City hub so it can serve as an entry point within Paris's food system. We realize that it's crucial to have a clear view of the situation prior to the design of any kind of actions. In our case, we needed the data centric approach of the food landscape in Paris and the micro-local approach to identify that we will be able to change the food system only on the long run by giving willing people access to tangible abilities in order to reorient the food system in a more circular and sustainable way. Our data has helped us identify the existing opportunities, resources and skills needed to make these changes. A next step for us is to map the existing circular skills present in the food system and build a network to facilitate the transfer of skills and knowledge. For this, we are mapping these skills on the map below. If you are interested in being featured or have any suggestions, please reach out to us!
A learning food ecosystem
Circular and locally resilient food systems require practical, hard skills as well as soft skills. Fab City Grand Paris is therefore working on a city-wide map of expertise of food system and circularity actors that define the Parisian food ecosystem.
Discover the article and the interactive maps on the cartography site of CENTRINNO!