Co-creating the role of makership in a circular Amsterdam 2050
Author: Ashley Laflin 
Since the CENTRINNO Consortium in Barcelona in May, the Amsterdam pilot partners have been hard at work engaging our network of makers and promoting makership within the city. We have focused on the role vocational training plays in the economy, partnered with local community groups and organizations to understand what is currently affecting makers and the larger community, and brought makers together at open workspaces to discuss their most pressing needs. We also have started a conversation with the municipality to discuss how we can keep makers and makership within the city.  To meet these aims, we have hosted a variety of events that engage both the community of makers and citizens. We highlight some of these events below to share how we have approached working with the community to understand and envision the role makership can play in building an inclusive and circular economy.  
Building a circular future: an afternoon in Noord 
In honour of the Northern Lights route, a circular festival in the Amsterdam pilot area, Waag developed a guided walk on the future of the city as well as a workshop for kids to create their own fireflies. In cooperation with the projects Centrinno and Atelier, Waag and Pakhuis de Zwijger organised this afternoon of events in Amsterdam-Noord on 9 April in which participants were challenged to think about their role in a circular future.  
Lighting the way: firefly building workshop for children 
Waag partnered with designer, inventor, and artist Eibert Draisma to host a workshop that taught children to build solar-powered fireflies. The aim of the event was to inspire the makers of the future. At the start of the workshop, Draisma gave a tour of his workspace and projects, including a frog simulator and a robot dog. 
After the tour, children were provided with instructions (as well as adult helpers) that walked them through the steps of assembling and soldering together the fireflies made from printed circuit boards and mini solar panels. The children, many of them quite serious about completing their project, were able to interact with each other while learning about electronics. Some of the young participants decided to put their own creative spin on the project, creating a new pattern for the wing shape of the firefly. 
At the end of the workshop, each child was encouraged to name their firefly and bring them home to charge in the sun. Through bringing the firefly home and having to wait until the firefly was charged enough to emit light, children were able to learn about solar power.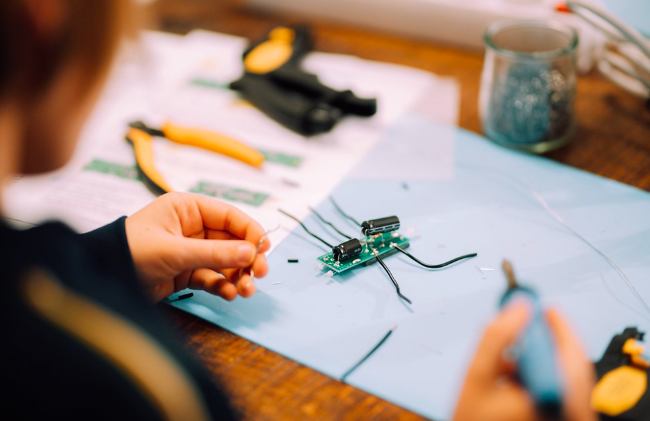 Photo: Jimena Gauna (2022)
A step forward: walking through the city of the future 
In honour of the opening of the Ware Noorden Lichtroute, Waag hosted a walk featuring organisations working toward a sustainable city. Prior to the walk, Thieu Custers from Waag and Thomas van de Sandt from Pakhuis de Zwijger shared the inspiration for the route. The walk was a way to experience the future of the city – not an imagined future of flying cars, but a future that is built in the here and now through current initiatives in the neighbourhood. 
Each stop was intended to introduce the walker to a location where things like welding, reuse, repair, and production take place, or where "we see the future happening". Amsterdam has set a goal of being circular by 2050. As such, one of the aims of the walk was to show what making can do for circularity. The group of walkers was challenged to reflect on circularity and sustainability: what must be considered for a sustainable and circular future?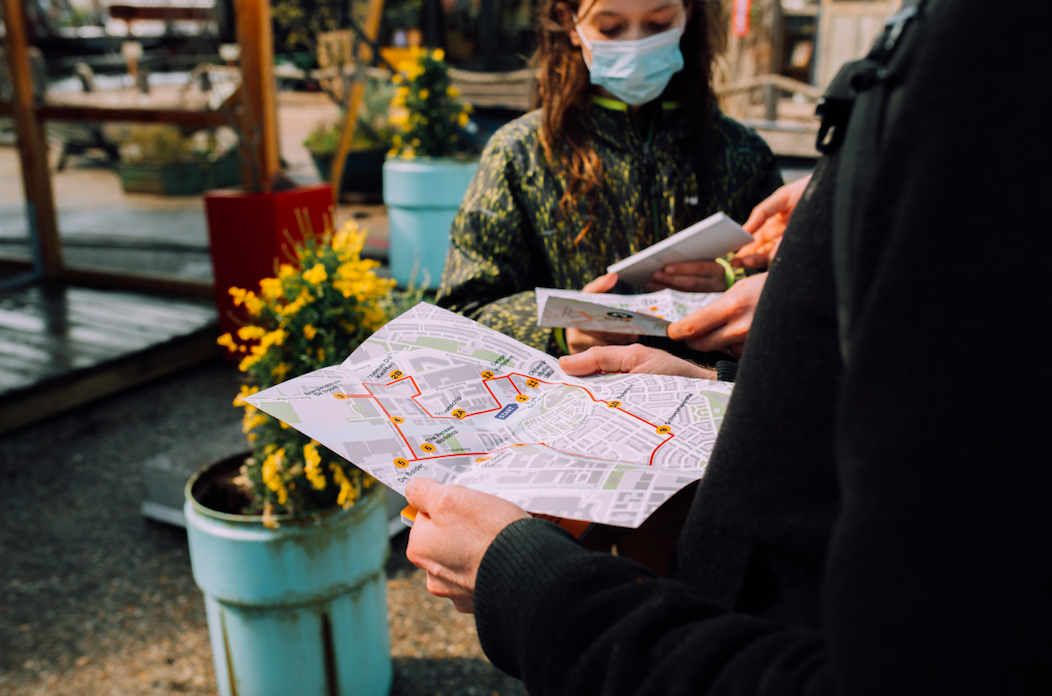 Photo: Jimena Gauna (2022) 
Attendees were given a map of the route as well as cards that provided questions to ponder at each site like 'many of us live in (rental) houses that we cannot (re)build ourselves – what can we do?' and 'what would you like to organise with your neighbours for circularity?' Stops ranged from shoe repair shop De Schoenmakerette to a soil remediation site at a former garbage incinerator to an installation, furniture and product design studio, UKU Studio. Along the way, walkers were encouraged to read the cards together and engage in conversation at the stops. Midway through the route, walkers took a break at thrift store De Lokatie to warm up with a cup of tea or coffee and to continue the conversation about the walk with one another. During this break, walker Tara van Viegen noted that the route provided a good opportunity to see the city from a different perspective. 
Reuse: leveraging the past in the present 
How can we use something 'old' to inspire something 'new'? In what ways can we reuse, repurpose, or reimagine something of the past to shape our future? Reuse, in addition to being a practical way to repurpose materials, is also a way in which something from the past can inspire ways to think about the future. An example of reuse that was prominent on the walk was the starting and ending point of the walk, de Ceuvel. De Ceuvel is located on the former Ceuvel- Volhardig shipyard which was in operation for 80 years until its closure in 2000. In 2014, De Ceuvel was officially opened as a sustainable urban development that includes workspaces, a hotel, and a cafe. From utilising old houseboats as workspaces to building the space largely from recycled materials, adaptive reuse is evident on the site.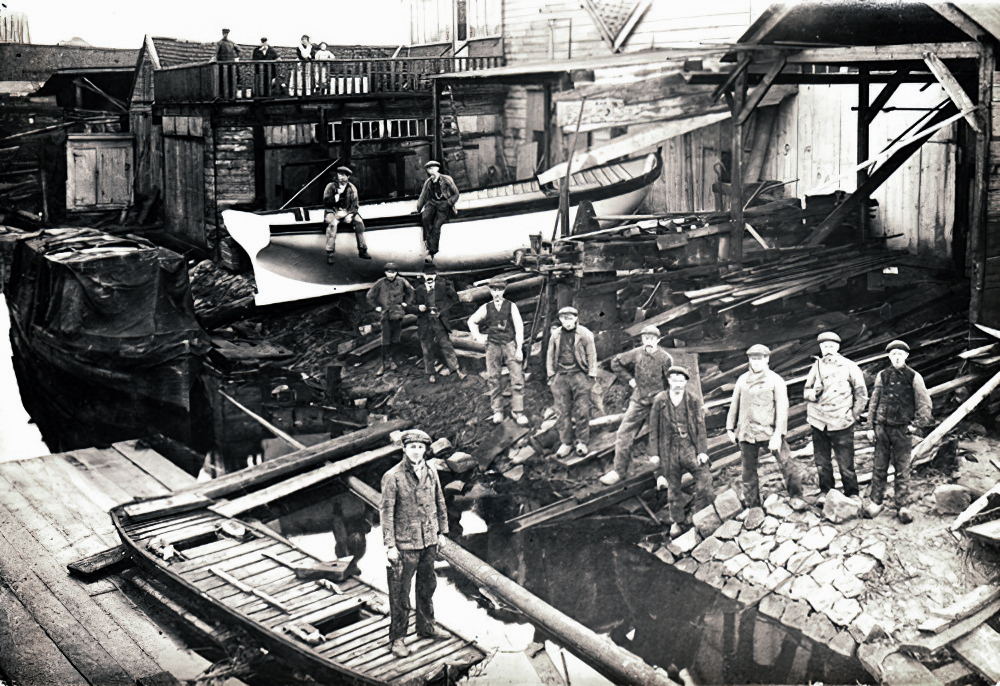 De Volharding shipyard at De Ceuvel. This photo was taken between 1910 and 1924. Credit: NDSM-werfmuseum. 
Reuse and repair on a smaller scale can also be seen on the walk. The Renewal Workshop focuses on clothing repair, helping customers extend the life of their clothing. Similarly, De Schoenmakerette repairs shoes, highlighting that the decision to repair a pair of shoes instead of disposing and purchasing a new pair is a more sustainable decision. The site of De Ceuvel, transformed over the years from a shipyard to what serves as a circular living lab of sorts, as well as other stops on the walk, can serve to inspire citizens to consider their role in working toward a more sustainable and circular economy. 
Inspiration for the future 
Through both the walk and firefly workshop in Noord, participants were challenged to think about their role in the future, be it through a lesson on solar power in the firefly workshop or visiting stops on the walk that exemplify efforts undertaken for a more sustainable and circular future. While it is not possible to turn the entire city into a circular system overnight, many reflected on finding inspiration through the events and felt challenged to consider efforts they could personally make. 
Guus and Hanneke, walkers who live in cooperative housing in Noord, spoke about how the sites on the walk showed them that there were others in the area working toward sustainability and circularity outside their bubble. Similarly, walker Suzanne Leegwater said she also felt inspired but acknowledged that there's really still a lot of work to do. Despite the effort it will take to build a better future, the walk led her to think about how she can participate in projects that work toward sustainable and circular goals. 
A Spotlight on Makership: Makers van Noord Exhibition  
To engage our network of makers and the local community, we organised an exhibition in Amsterdam Noord, the center of our pilot area. CENTRINNO partners Waag, Pakhuis de Zwijger, and Hout- en Meubileringscollege collaborated on the exhibition Makers van Noord, placing craftsmanship in the spotlight. This exhibition allows visitors to 'meet' ten different makers from the area and learn their stories about reuse, sustainability and traditional craftsmanship. Visitors were encouraged to think about what their city might be like without makership. What would the community look like without people like shoemakers, woodworkers and car mechanics? Who are these makers, what do they make, and how does this contribute to the city, the neighbourhood, and our lives? 
From large industries to small workshops, craftsmanship has always been an important part of Amsterdam Noord. Scattered throughout the district, one can find individual makers and collectives, artisans and creative entrepreneurs. Their future in the city, partly due to gentrification, is under pressure. At the same time, the city relies heavily on these makers to meet challenges such as the energy transition and building a more circular city. 
This challenge is not unique to Amsterdam – many other European cities are currently grappling with the pressures felt due to factors like gentrification. As a result, makers are often pushed to the margins (or in some cases outside of) cities. Our partner cities in CENTRINNO are also contending with similar circumstances and are working to support makership in their cities. To demonstrate this shared challenge, this exhibition features makers from four other CENTRINNO pilot cities – Tallinn, Blönduós, Copenhagen, and Barcelona. These makers shared their personal stories about makership and also sent along objects for display that represented their work. These ranged from leather working tools to a shirt made from recycled tea towels. 
The exhibition Makers van Noord was displayed at Museum Amsterdam Noord this summer and will be exhibited at Pakhuis de Zwijger and Hout- en Meubileringscollege this fall. In addition, the exhibition was featured during the event Make Way for the Workshop at Pakhuis de Zwijger, which focused on a new incubator policy for makership in the city and how affordable, sustainable, and social spaces can be offered to makers. The decision to create a 'moving exhibition' was intentional as it allowed us to reach a larger and more diverse audience. It also enabled each host site to change or highlight specific aspects of the exhibit in a way that best connected with the communities they work with as well as organise side events around the exhibition that engaged the local community. We hope that this technique of a moving exhibition is one that can be used by other CENTRINNO pilot cities as a means to both encourage collaboration by partner organizations as well as reach a broader and more diverse audience.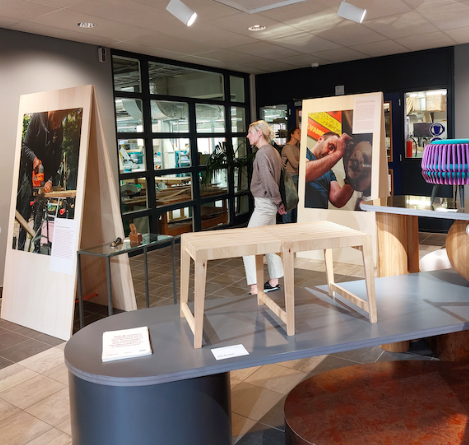 Exhibition at Hout and Meubileringscollege  
In addition to Make Way for the Workshop at Pakhuis de Zwijger, other events to support the launch of the exhibition were offered to the public and maker communities. A mapping session was conducted with members of the community to discuss makership in Amsterdam Noord and spatially plot the landscape of makership. A discussion about making in the city, conducting through the method of Emotion Networking, used shoemaking as a starting point to talk about issues like the importance of a having a strong base of makers for a circular economy, the high expenses that are part of apprenticeships, and the insecurity of the future for small businesses due to high rents and energy costs. To conclude the exhibition at Museum Amsterdam Noord before the exhibit moved to its next location, a closing event was hosted which included a lecture by Marlon Huysmans, co-founder of Made Up Noord, about Sam Wichers Schreurs' research on how transformation efforts in Amsterdam Noord effect the maker community.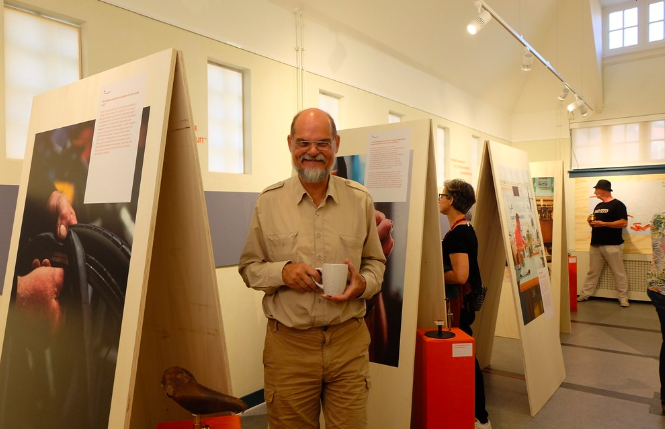 Exhibition at Museum Amsterdam Noord  
Moving Into the Future 
These events helped involve the public in discussion about makership in the city as well as engage and strengthen the maker network in Noord. Moving forward, we will continue our focus of creating a strong network of makers in Noord and partner with them to co-create a vision of what makership in the city might look like in the future. To do so, we will first engage in exercises that help visualize how the landscape of makership has changed over the years to understand how we might best plan for the future. Our intent is not to take a top-down approach to prescribe what the path forward might look like, but instead work to strengthen the existing network of makers, understand what struggles they currently face, and support them in tackling these challenges. One of the largest issues we came across during the first year of our research is the pressing problem of space within the city for makers. Due to housing problems, rents are increasing and workshops and their makers are being pushed out. We think that a city cannot achieve circular goals without a vibrant maker community. In the coming months, we will continue to work within the maker community in Noord to co-create a strategy in working with the municipality to address the pressing concerns they have about space in the city.