Launching the alliance 'Maakschap Amsterdam'
Joining hands for a resilient and sustainable future for the city.  
Keywords: #community #craftsmanship #circularcity #network #lobby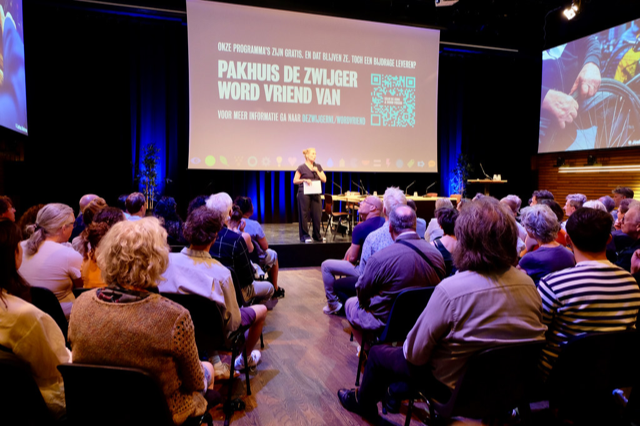 Waag Futurelab, together with leading partners, recently created an alliance: Maakschap Amsterdam. This was recently launched by director of the Wood and Furniture College Stephan Welie and director of Waag Marleen Stikker at a meeting in Pakhuis de Zwijger. 'Makers are already busy enough on an individual level,' says Stikker. 'So hence today's launch of Maakschap Amsterdam: to set a joint agenda and lobby for better maker policy in Amsterdam.' At the table were developers, City Council advisers and Amsterdam councillors to discuss issues involving space for makers in the city. The meeting was all about finding solutions for makers who are disappearing from the city in ever-increasing numbers. What are the challenges, what do makers need and above all, where are the solutions for a sustainable city of the future?  
What is Maakschap Amsterdam?
Maakschap Amsterdam is an alliance to connect makers, share knowledge among themselves and jointly lobby for better maker policies. It organises events such as the Open Workshop (informal gatherings at different workshops in Amsterdam) and Round Table Discussions (lobbying and working towards influencing policy) as well as creates learning experiences around circular working.  
Maakschap Amsterdam presents a manifesto with three spearheads:   
– There should be affordable workplaces in the city 
– Makers should be involved in urban development plans 
– Practical training should be promoted and preserved in the city and encourage circular craftsmanship 
On the specially launched website www.maakschap.nl, people can sign the manifesto and join the network. 
Maakschap Amsterdam represents a call to the City of Amsterdam on active policy on retaining makers in the city. The new satellite location of the HMC, in the NDSM shed above the Grafic Workshop, is where Maakschap will meet. It will be festively opened in December 2023.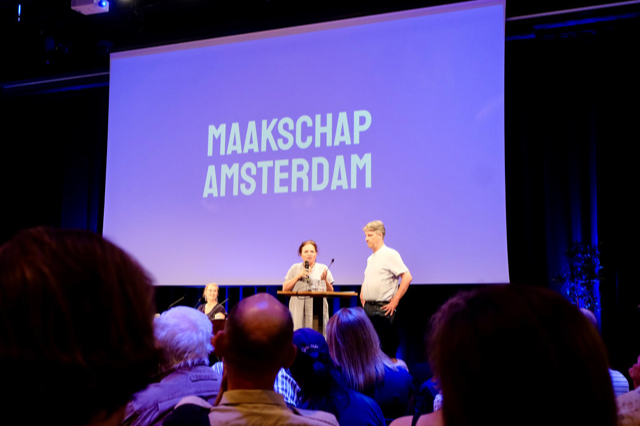 Why Maakschap?
Marleen Stikker emphasises the urgency of keeping makers in the city: 'With the tasks that are now before us, for example the climate transition, it is necessary to become resilient. The art of repair must regain its place in society'. Stikker points out that the 'circular task' (reducing the use of new raw materials, for example) is forcing us as a city to deal with raw materials and waste differently. 'This task is for everyone and cannot be shifted to a few people who will deal with it in isolation, these challenges must be taken into account in all domains Makers play an essential role in this.' 
'As an antidote to the widely known sprint to the Swedish blue-yellow box' argues Stephan Welie (HMC), 'we need to work very hard to raise the visibility of makers and crafts.' Stikker adds that our perspective on practical training in relation to intelligence levels is outdated. 'Craftmanship and intelligence of the hands is perhaps even more important at this point in time than what we are currently focusing on: artificial intelligence,' Stikker says. 'In addition, different learning paths should be possible for young people side by side; you should be able to do a university degree but also learn to make.' 
Both Waag and HMC are opening up their materials library and digital fabrication labs in order to share knowledge and machines with the city. Welie and Stikker call on other bodies to also set up their knowledge and facilities. 
The land as a cash cow
 As far as urban developer Marlon Huysmans is concerned, a crucial mistake has been made in recent years at the Land & Development Department of the City of Amsterdam: 'the land in Amsterdam has been used as a cash cow.' 'The ground rent,' she continues, 'has tripled, but the maker's hourly wage certainly has not. There is now also billing per floor. Functions that can pay less suffer. And it's very simple for politicians: we have to reverse that, back to the way it used to be.' 
On the stage at Pakhuis de Zwijger, in addition to Huysmans, a developer manager from AM Property, a professor of transition management and a spatial economic advisor from the City of Amsterdam were also present. What is clear is that there is a huge shortage of affordable workspace and too little regulation. So what is the biggest challenge in the issue of how to retain makers in Amsterdam? Geert-Joost Peek, lecturer in area development, responds: 'If this pressure to live and work at the same time is maintained, there will be a big challenge of 'mixing'. Mixing means that manufacturing companies end up in the plinth (bottom layer of a building) and housing on the floors above. That often becomes very expensive because you have to insulate very well to avoid noise pollution, for example'.  
Spatial economic advisor of the municipality of Amsterdam, Anke Rolsma, poses a question she herself finds difficult to answer: 'the challenge for the municipality is: how do you steer on the affordability for the end user of a building as a municipality? There is no policy for that now.'  
Makers "stack" and no square meter of workshop should disappear any more!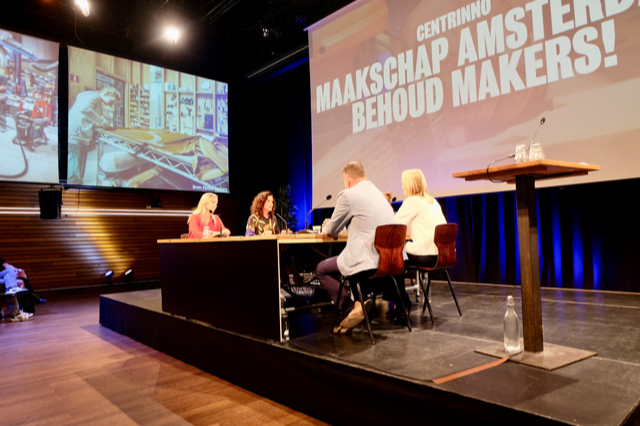 Peek sees importance in stacking makers. That is, on each floor in a building, a different kind of maker runs a making business. Peek also argues for an ultimate stop to function change at already existing workshops: 'not a single square meter of workshop should disappear from now on!' he says. The audience nods in agreement.  
Property manager Verschoor explains how developers often take part in competitions, so-called 'tenders' put out by, for instance, the municipality. In these they are asked in advance to offer a certain number percentage of space that will rent for the market maximum. Those tenders should be put out more in the field of workspaces, rather than just housing, says Verschoor. 
The Netherlands' first work corporation
Jaap Schoufour enters the stage, proposing to 'move towards an Amsterdam Work Corporation for makers and productive activity'. On behalf of STIPO (urban development team), Schoufour, commissioned by the municipality of Amsterdam, is working on a plan for a real estate organisation to provide affordable business space. 
It will be a corporation that will provide business spaces for small manufacturing companies with relatively low rents. This new organisation will have to work with government, property developers and investors.  
The majority, but not all, are enthusiastic. Huysmans sees a good move in Schoufour's plan, but fears that is is overambitious. 'That's the risk if you put another development company between makers and the municipality. I would like to see Grond & Ontwikkeling, almost a kind of "darkweb" of Amsterdam, finally solve the problem. And can't the municipality also put tenders in the market for makers themselves?" said Huysmans. Made Up North represents manufacturing companies on NDSM and fights for makers themselves to be involved in designing maker districts.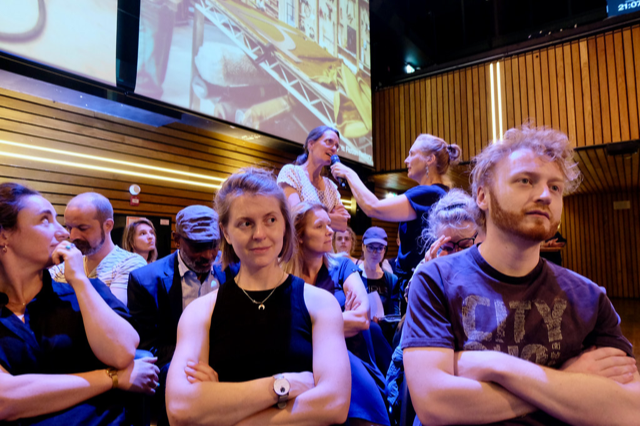 There are also questions from the audience: 'Is it true that the municipality is not legally obliged to ensure that there are enough workshops in the city?' asks a visitor. Economic advisor to the Municipality Rolsma: 'The municipality is required by law to, for example, create schools and other public spaces in area development, as well as providing space for businesses. But we leave the latter to the market. Offices and supermarkets more or less come naturally, but manufacturing companies do not. It is very complicated.'   
 There is only one solution to a complex problem, argues urban planner and co-founder of Made Up North Huysmans, "Start working on the complex issue together and don't dodge it!".  
City councillors: only words or also deeds? 
 A number of different Amsterdam city councillors of different parties sit at the table. The councillors pondered the solutions raised earlier; makers should be involved in building plans and no square meter of workshop should change its function. In general, the councillors from the different parties generally agreed with each other. They recognise that creative solutions are needed where living, working and schooling take place in the same buildings. And that customisation is needed. When it comes to keeping makers in the city, it cannot just be about real estate; the social value of crafts should be recognised and promoted.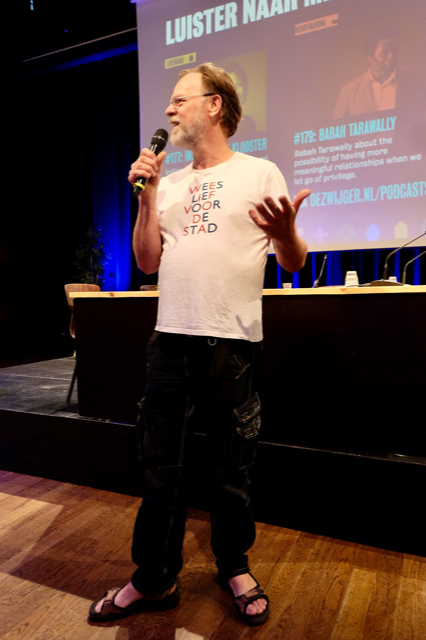 A number of makers lose patience during the event, finding it quite a lot of talk. Craftsman and wood enthusiast Houk van Lier invites the councillors to drop by his workshop on a Friday. His door is wide open to discuss what, of all these beautiful plans, has already succeeded, and what has not yet. 'Be kind to the city' is written on his shirt, a message that should serve as a motto at all times when dealing with the complex tasks for Amsterdam's future.   
How to proceed? 
Maakschap Amsterdam is still developing. The precise details will be shaped by the initiators Waag, HMC and Pakhuis de Zwijger, together with the parties involved: VEBAN, Made Up North, De Openbare Werkpaats and Stichting Het Hamerkwartier.   
Do you find this interesting and would you like to stay informed about the developments of Maakschap Amsterdam? Go to maakschap.nl and sign the manifesto.  
Link to Maakschap Amsterdam (only in Dutch)  
Link to previous opinion piece 'Makers and craftspeople make Amsterdam – so grant them a place to work' 
Link to research: 'Half of manufacturing companies will leave'.