How do we ensure that cities like Copenhagen will continuously be inclusive to all types of people and businesses?  
Gentrification is increasingly becoming a challenge in larger cities, both globally and in Copenhagen. Rising prices and use of 'run-of-the-mill' development plans have resulted in the disappearance of many low-income groups and smaller production-based businesses as they are forced out of the city. Creative businesses with smaller income are especially vulnerable to this phenomenon, posing a great challenge to many cities, as creative environments are considered key in creating thriving neighborhoods with unique identities and social diversity. 
For these reasons, the Copenhagen pilot took its first steps in the beginning of November towards creating a network of expert actors within relevant fields of urban development, and creative environments. The effort took place in the form of a kick-off event at the pilot site Northwest, which aimed at establishing relations with the local and national partners, who wish to be a part of CENTRINNO's ecosystem. Additionally, the event functioned as a method of gaining insights into the stakeholders' experiences as well as sharing of experiences, barriers and good examples. The event posed the question; How do we create urban development with room for creative urban environments in Copenhagen? 
The event was framed by politicians and professional experts in the field of urban development, who introduced the overarching theme of the event, creative placemaking. Creative placemaking is an evolving phenomenon within urban development that can generally be characterized as "a useful methodology to produce active, vibrant, authentic mixed-use places and add social, environmental, and economic value to development projects."[1]  Hence, creative placemaking can be a powerful tool for strengthening and supporting the creative businesses and value-driven environments – both socially and economically – and ensuring their continuing existence in Copenhagen neighbourhoods. In a Danish context, creative placemaking is characterized by low hierarchy, trust, social responsibility, and tradition for cross-sector collaboration. Employing creative placemaking is then in particular relevant as it supports a way for partnerships to be a catalyst for social and economic development.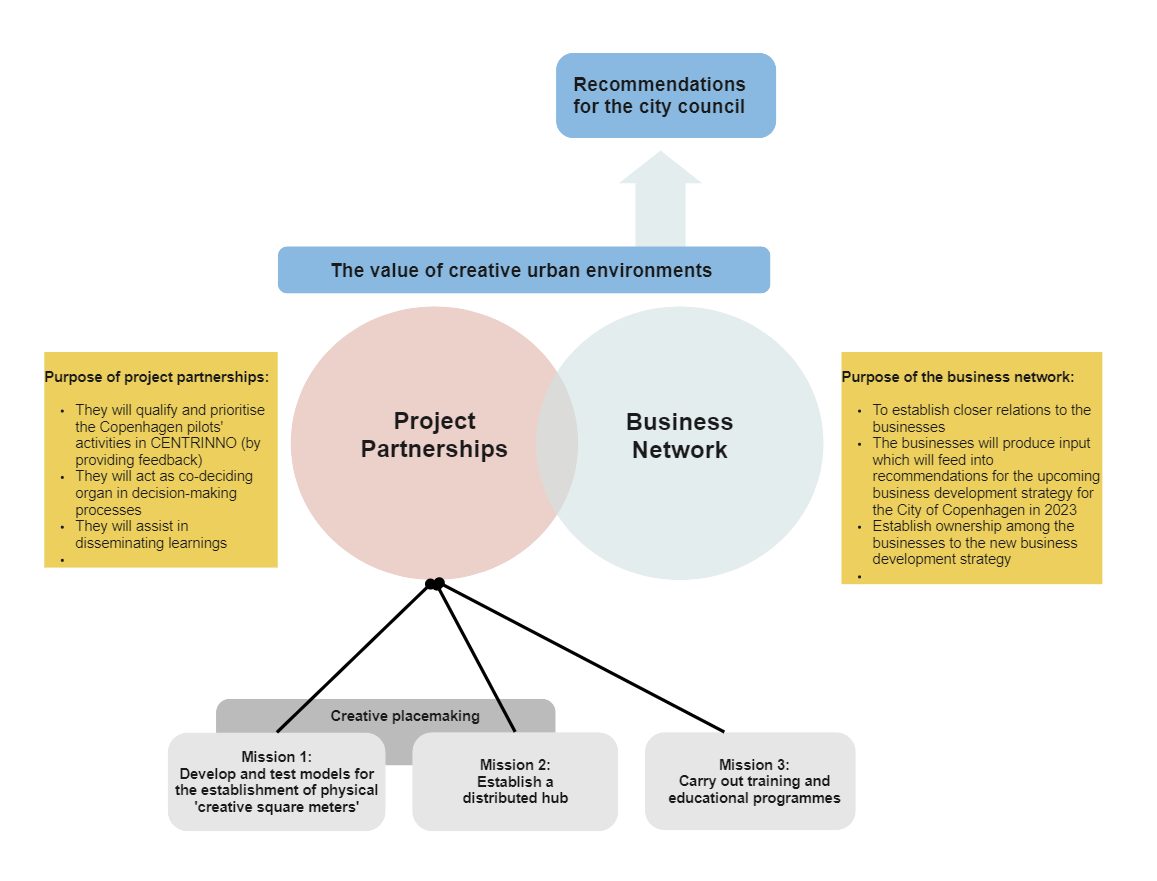 Additionally, participants discussed different themes connected to creative placemaking in breakout sessions. The breakouts were focusing on:   
Development of business models – how do we develop new business models that support creative urban environments? 

Visibility of value creation – how do we view the value creation in creative placemaking and how do we make it transparent? 

Curating and partnerships – what, and who, does it take to create a creative urban environment?
Many valuable take-away potentials and insights were produced during the breakout discussions; when subsequently mapping an overview of the stakeholder's areas of interest and the accompanying challenges, our pilot concluded that findings can be divided under two central headlines: 
What is the value of creative urban environments?

 

What does it take to create and support creative urban environments?

 
Outcome/ Next steps
Moving forward, the Copenhagen pilot will continue to develop the findings from the event and evaluate how they feed into three pilot missions. The missions each have a focus that together contribute to fulfilling the ambitions for the Copenhagen pilot's role in CENTRINNO. 
 The event worked as a way to identify relevant stakeholders to be part of a business network and project partnerships that the Copenhagen pilot plans to establish. 
The role of the project partnerships will be to assist in qualifying and prioritizing activities and methodologies for future work in the Copenhagen pilot. Insights from the partnerships will feed into the missions and help frame and achieve them. 
The business network will among other activities follow up on the findings gained from the event and eventually develop them into qualified recommendations for the city council that feed into the upcoming business development strategy for City of Copenhagen in 2023. The ambition is to secure a political anchor for the CENTRINNO initiatives.  
In conclusion, bringing together urban development actors from all over Copenhagen has worked as a way to get closer to businesses and creative communities and is a valuable step in developing new business models for partnerships, as well as further exploring and testing the potential for creative placemaking as a model for the contemporary gentrification challenges in urban Copenhagen.